'Click' on pic to enlarge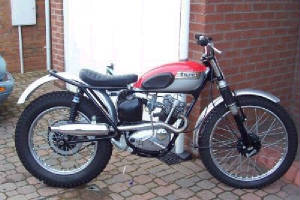 1964, Triumph Tiger Cub - TR20
Engine No; TR20 -95284
Frame No; T -95284
Special Thanks to: -
Sammy Miller, Motorcycles ltd.
Martyn Adams, SERCO
Tom Reynolds
last but not least.......Dick Varcoe.
Alas, the machine no longer belongs to me. Nick is now the proud owner. Good luck and enjoy owning and riding it.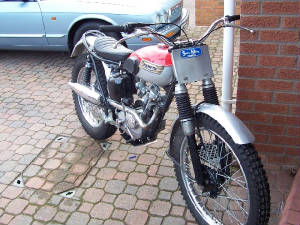 'Click' on pic to enlarge
Bought as a pile of bits in October 1997.
Engine
Stripped down and rebuilt, all bearings and gaskets replaced [except the big end bearing, Alpha bearing].
Barrel & piston Std. size.
Gearbox Sprocket
14 Teeth
Rear Wheel Sprocket
64 Teeth
Wheels
Rebuilt with new spokes on original hubs, [blasted and stove enamel black]
Heavyweight Front Forks
New Stanchions, bushes and seals. RM-21 Alternator Assy. Supplied by SERCO, [Martyn Adams].
Sammy Miller Bits & Pieces
Swinging Arm Kit, is longer and wider than std. gives greater clearance for 4inch x 18inch rear tyre [modern trials tyre].
Alloy chainguard
Control cables
Trials handlebars [7/8"]
Boyer Bransden Electronic Ignition
Pirelli MT43 Trials Tyres [although I would n't recommend them- [too hard]
Misc.
Paint; Hi-Fi Scarlet / Silver Sheen
Stainless Steel fixings.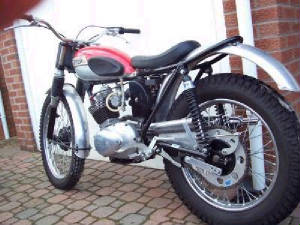 Background
The TR20 and TS20 were specialist trials and scrambles developments of the T20SS model. Introduced in 1962 they were described as 'Works Replica' models, as near as could be bought to the machines used by the factory riders. Both models had: -
upswept exhaust system.
crankcase undershield
short competition seat
polished alloy mudgards
no toolbox, prop or centre stands
heavyweight front forks without top covers
wide handlebars [braced on the TS20]
a shortened left footrest bracket carrying the rear footbrake pedal
Neither model had lights but a rear number plate and front competition number plate were available. Also available were a large range of gearbox and rear wheel sprockets.
The smaller [sports] terrier fuel tank was used and ignition timing was by Energy Transfer.
The total number of TR20 built was; 526 and the TS20 build total was 367.
source; Mike Estall TRTS20/2
'Oval' up to #99999, then 'Square' from #101 onwards

Inlet 0.002", Exhaust 0.004", [cold]

Lucas Energy Transfer. RM 19 Alternator

Lucas 40846, [1962 only] Side points 1963 onwards.

Monobloc 375/44 for TR20 and 376/272 for TS20

GEARBOX RATIOS: - TR20

Teeth on Mainshaft:-

Teeth on Layshaft:-

- Wide Ratios.

1st- 16t. 3rd- 25t. 2nd- 20t. 4th- 29t.

1st- 29t. 3rd- 20t. 2nd- 25t. 4th- 16t.

GEARBOX RATIOS: - TS20

Teeth on Mainshaft:-

Teeth on Layshaft:-

- Extra close Ratios

1st- 16t. 3rd- 23t. 2nd- 20t. 4th- 25t.

1st- 29t. 3rd- 22t. 2nd- 25t. 4th- 20t.

WHEEL & TYRE SIZES;

FRONT: -

REAR: -

TR20 & TS20

- Both are WM1, 2.75 x 21

TR20 - WM3, 4.00 x 18

TS20 - WM2, 3.50 x 19

Engine 19t, Clutch 48t, [3/8" x 7/32" x 62 links, Duplex]

Gearbox 16t. Rear Wheel 58t, [1/2" x 3/16" x 119 links]
LINK to my Cub on the Cubsite Forum.